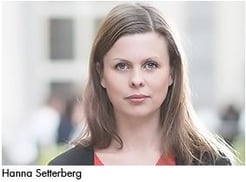 Why does the financial sector need increased knowledge about sustainability issues?
- We are convinced that the financial sector has a key role to play in the major transformation that is needed in society if we are to achieve the UN Sustainable Development Goals by 2030. But to act as a real catalyst in this transformation, the market also has to change its own way of working to some extent and integrate the ESG perspective into its analyses. Of course, this isn't easy, and it's not as though we within the academy have all the answers. But we can offer an overview and a structured way of thinking when it comes to how the financial models can be used and expanded to incorporate the sustainability perspective as well. In the program, we combine insights from research with practical approaches, from both invited speakers and participants. The expectation is, of course, that greater knowledge will lead to better business decisions with the sustainability perspective integrated.
Tell us about the program Sustainable Finance?
- It's a two-day executive program that has been developed in cooperation with Vinnova and the Stockholm Sustainable Finance Centre. Until now, there has been a lack of executive programs with this particular focus and set up for this target group in Sweden, despite the huge need to increase the knowledge and pace of sustainability integration within the financial sector. Compared with the online courses that are available within this area, this program gives the participants a forum for in-depth discussions on opportunities and challenges when it comes to integrating sustainability perspectives into financial business decisions such as lending, portfolio management, risk management and so on.
What is the expected outcome for the participants from this program?
- By the end of the program, the participants will have a good overview of the topic 'sustainable finance'. They will also have a deeper understanding of the opportunities and limitations inherent when integrating ESG into financial modeling. We've found that people often feel at a loss as to how they should tackle these issues. I believe that getting to share views on challenges and experiences with others in the same situation through the program will give the participants the confidence boost they need. This, coupled with new insights, will make them better placed to handle their everyday work and future challenges. In short, they'll be better at their job.
Want to find out more about Sustainable Finance?
For more information, please contact Viktoria Norell, +46 8 586 175 40, viktoria.norell@exedsse.se or fill in the form.