Stress is much more than an unpleasant feeling – it affects your productivity, your ability to prioritize and make considered decisions, and your ability to maintain good relationships with your colleagues. It takes a high toll on both you and your business. A key cause of stress is trouble focusing, largely as a result of having to deal with an increasingly complex world. But as a leader, what can you do to stop negative behaviors and mindsets and take back control?
Neural research has some of the answers
The old motto 'sleep, eat, exercise' still holds as a basic foundation. Now, however, there is also research into what the mind needs and how you can keep yourself mentally effective. The past 10 years have been 'the decade of the brain' – articles on how the brain works have been appearing in a constant stream, not least on the subject of cognitive capacity and focus. One reason for the increase in pace is the major advances being made in measuring how different stimuli activate the brain.
Jeannette Eidmann is director of SSE Executive Education's Sustainable Leadership program, alongside her doctoral studies at the Stockholm School of Economics. In the Sustainable Leadership program, Jeannette works with science-based tools to establish greater self-awareness, empathy for oneself and others, and active presence. These areas offer important keys to managing complexity and stress:
Greater self-awareness
By gaining a better understanding of yourself – your values, drivers, patterns and visions – plus knowledge of what the research says about effective leadership, you'll be better able to understand how your behavior affects others. This will enable you to make more conscious choices and increase the effectiveness of your leadership.
More compassion
Compassion, defined in this context as 'empathy for oneself and others', is about developing trust and an inner sense of security. By activating the body's own security system, we make smarter decisions, have the confidence to make changes and become better at living in the moment, according to Jeannette. Developing psychological security within a team has also been proven to create more effective teams.
Greater focus and active presence
An important step in breaking the cycle of stress and increasing our own sustainability is to train our ability to focus. This makes us better at prioritizing and making conscious decisions, even on more complex issues. Mindfulness and meditation are proven techniques supported by research. With so many different training methods available, Jeannette advises trying some out to find the one that works for you.
Don't let preconceived ideas hinder your development
Some people still have preconceived ideas that mindfulness is a 'fluffy' concept, but what they fail to understand is how closely active presence is associated with commercial benefit and results, according to Jeannette.
"It's not about us going around like smiling zombies. On the contrary, it's about being fully awake, alert and focused. And building teams and organizations in that image."
5 top tips for managing stress and becoming a more sustainable leader
Get to know your own daily rhythm and plan as much as you can on that basis. When your brain is fresh, you should use it for tasks that require particular focus.
Don't book wall-to-wall meetings – allow a little space in between to prepare and reflect.
Set aside a specific block of time for reading emails, and stick to it.
Switch off push notifications and chat functions when you're doing tasks that require focus.
Insert short breaks into your daily schedule and practice mindfulness whenever you can, for example in the elevator or lunch line.
This is the second article in a series about stress and sustainability. Don´t miss the first article, Sustainable leadership – a good start for successful organizations.
---
Sustainable Leadership
Sustainable Leadership is a nine-day executive program that helps organizations to break the negative trend by making their leaders more sustainable. The leaders are given tools and strategies to better manage their own situation at work, while also gaining ways to push the rest of the organization in the right direction.
Want to know more?
For more information about this program, please contact program adviser Patricio Trujillo, +46 73 384 14 17 patricio.trujillo@exedsse.se or download the brochure above to the right.
---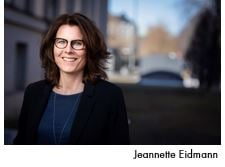 Jeannette Eidmann is currently director of the Sustainable Leadership program at SSE Executive Education, alongside her doctoral studies at the Stockholm School of Economics. Jeannette has a degree in Economics plus an MSc in Gestalt in Organizations and has worked extensively with leadership development and executive development since 2006. Jeannette is certified in neuroleadership and is also an accredited mindfulness instructor.