"
GOOD LEADERSHIP IS ABOUT BEING ABLE TO CONNECT WITH BOTH YOURSELF AND WITH OTHERS."
---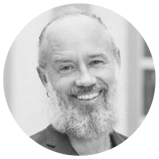 In times of unrest, crisis and digital change, the expectations placed on managers and leaders have only intensified. The Leadershift program gives you a unique opportunity to practice pushing the pause button and acting empathetically in order to better address the challenges that so many organizations face today.
Lasse Lychnell is one of the program's lecturers.
Since 2013, his research has included how meditation and mindfulness can help managers and leaders grow and create sustainable businesses.
-My lectures focus on mindfulness and emotional intelligence. Through meditation, we can create better relationships in the workplace, handle situations in a more thoughtful manner and make better decisions. An important part of personal development is practicing these skills.
Emotional Intelligence is highly valued
Self-awareness, empathy and social awareness are just a few of the qualities that are highly valued in today's leaders. The ability to connect with yourself and with others is a distinctive trait of successful leaders, Lasse explains.
-People's interest in personal development has really increased over the last 10 years, and that development has largely been driven by mindfulness research that shows the positive effects that mindfulness has on, for example, self-awareness, empathy and decision-making.
He goes on to say that,
-If I were to choose one trait that distinguishes a good leader, it would be their ability to connect, and that ability to connect requires both presence and empathy – two things that we can always work on. However, it's not always easy since we aren't accustomed to tapping into these abilities at work.
The Importance of pausing and reflecting
A common challenge for many leaders and managers is how to handle stress both inside and outside the workplace. Stress can be a double-edged sword. Although it can help improve our focus and performance, if too much stress builds up it can also cause us to act instinctively and make bad decisions.
-Mindfulness is about pausing and creating a space between stimulus and response, for example, between receiving an email and replying to that email. However, mindfulness is also about reflecting in that in-between space. Where is my response coming from? What are my different options and what consequences does each option have?
-A simple way to increase emotional intelligence is to observe experiences in the present moment, Lasse explains. His research shows that pausing and reflecting before making a decision can make a big difference, both for ourselves and business development.
Discover new ways to act
-Oftentimes, by seeing a situation in a new light, we enable ourselves to discover new ways to act, understand what people really need and sometimes even let go of something, instead of trying to change what cannot be changed.
In the program, participants will gain concrete tools that they can immediately use in day-to-day operations. In the longer term, a meditative approach can also lead to more open and honest relationships and more time for strategic work, Lasse explains.
The goal of the program is to improve our ability to integrate personal development into our professional lives, which in turn leads to a more sustainable world on an ecological, economic and social level, he says.
Lasse's top tips on how you can inspire growth for yourself (and others).
- Replace self-criticism with curiosity. For example, instead of judging yourself ("I can't believe I did something that stupid"), approach your actions with curiosity ("Why did I act the way I did?"). A right/wrong mindset inhibits new thoughts, while curiosity opens the door to creativity and learning. And a curious mindset is infectious – you'll be surprised how quickly people around you adopt it.
---
About the program
Leadershift is for those who want to build their own potential and the potential of those around them. You are curious about your own potential and how you can contribute to the growth and development of others. Now all you need is the framework, tools, language, and skills that both you and those you manage can use.
Do you have any questions?
For more information about the program, please contact Daniel Engblom, tel: +46 707 54 21 65, daniel.engblom@exedsse.se